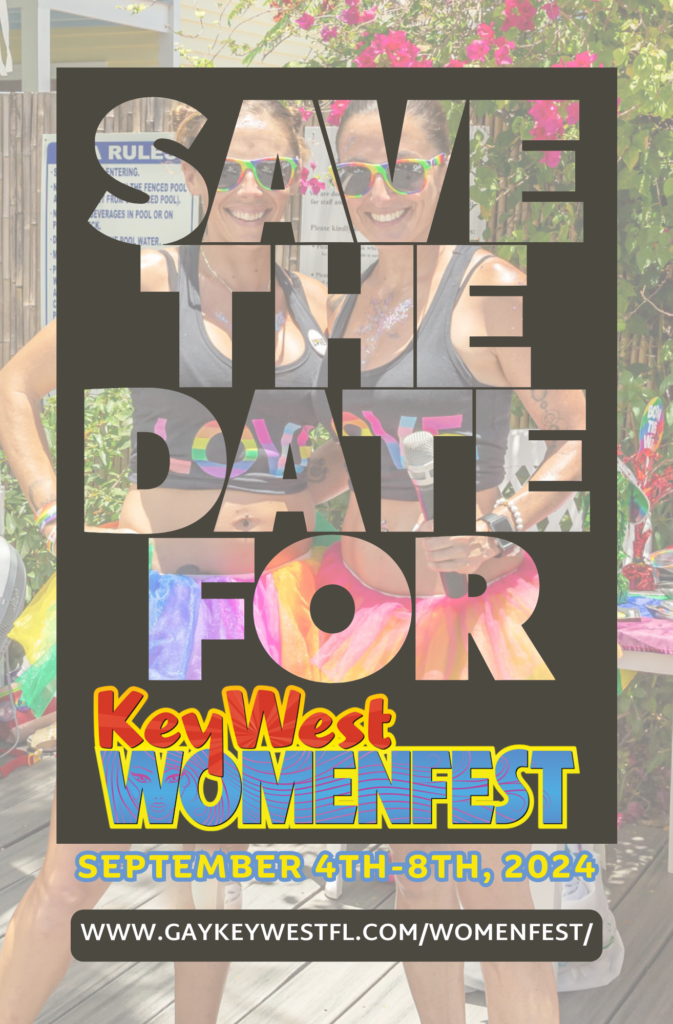 September 4-8th, 2024
For decades, Key West's Womenfest has attracted thousands of lesbians, bi-sexual, queer, transwomen, and allies to what is arguably the premier LGBTQ+ vacation destination in the country. Womenfest has a simple goal: to celebrate ALL women! Key West Womenfest offers a wide range of activities for those who want to socialize, feel comfortable being themselves, soak up some sun, then party and dance the night away. Since its introduction over 20 years ago, Key West Womenfest has grown to become a standard for celebrating women ranging from all ages 21 and over. Couples, singles, and those in between are all welcome! Join us annually in September to immerse yourself in what is dubbed the HOTTEST party for women in the Florida Keys!
Womenfest 2023 Schedule of Events
6-8 pm — Womenfest 2023 is HERE!!!! Join us poolside for the official Welcome Party with local songstress Marjory Lee @ Alexander's Guesthouse – HOST HOTEL. Come out to mix & mingle, meet new faces, or reconnect with familiar faces! Enjoy open bar and small bites, and live music! Leave your trouble at home and let's have a great time, ladies! Happy Womenfest!
9 pm — Womenfest Edition Drag Show @ Aqua. Stop by after the Welcome Party and hang with Key West's very own, Aquanettes! Womenfest rates are $10 for Standing Room and $20 for table seating. If you would like a VIP booth (an additional $150 per booth) Booths hold up to 6 guests, and requires a reservation to hold. RSVP Here.
12 -3 pm — Ultimate Beach Bash and Cornhole Tournament @ Lagerheads on Simonton Beach. Join us for our third annual cornhole and beach bash event – celebrating WomenFest 2023! We have a total of 10 spots available, first come first serve. To participate, please complete the waiver and bring your "A" game! The cost is $25 per person, or $50 per team(teams are REQUIRED to play). Great prize for 1st place winners! May the best Women(persons) win! Register HERE!
5:30 pm – 7 pm — First Annual "Women, Words, & Art Poetry Reading and Art Exhibition" featuring women poets of the Key West Poetry Guild and local artists. A combination of round-robin and open mic readings. @Little Room Jazz Club. This event will feature approximately 8 woman poets reading poetry in a round-robin fashion with an open mike session also. Jah Love of the Key West Poetry Guild will be hosting the poetry reading portion. At the same time, we will have an art display by women artists. *Donations will be collected for the Connie Gilbert Scholarship Fund – The Connie Gilbert Scholarship Fund is to benefit women in the Florida Keys who are returning to school from the workforce, seeking professional licensing or certification, or have completed at least one year of higher education.
6:00 pm — Each week we raise money for a different charity by races vibrators down a track, dancing, being inappropriate and banging gong with a dong.
Join us to raise money while having fun for Womenfest @Mary Ellen's! Strictly 21 + Be sure to bring money to donate and be a participant. This is not a spectator sport, you will be part of the show. We have limited seating and they go quick.
Some quick rules and notes before you buy:
Tickets are for prefered seating only . If you get there before 6:15 pm your seats will be wating for you. If you arrive after 6:15 your seats may be given away and your money donated to the charity of the week. Please read the above again so you won't be mad if you are late and we give your seat away.
At half time we open the door for a few standing room. It gets a little wilder and a little louder. It's a fucking vibrator race! You will be expected to have fun, bid and drink. This is not a spectator sport, so be prepared to get involved. The more fun you have, the more fun we have, the more money we rasie and the more people we help. Fun ( and booze) fuels this party. Thank you in advance,
The Mary Ellen's Staff
6:30 pm — Argo Navis presents the annual Womenfest Sunset Sail, hosted in conjunction with the Key West Business Guild, is part of a 5-day island wide celebration of women worldwide!  Join us for 2 hours of sailing the magical green waters where the Atlantic Ocean meets the Gulf of Mexico.  Combine this with delicious food & drink, tropical breezes and the soothing sound of wind and waves as the sun sinks into the horizon, leaving us with a glorious show of color in the sky. For this event you will also be treated to the soothing sounds of Jessica Wachs Duo.  Your sail is just $99 and a percentage from every ticket purchased is donated back to the Business Guild to assist with future Womenfest events.
Tickets may be purchased by calling (305) 509-1771 or online at svargonavis.com . Your trip includes Florida craft beers, premium wines, Argo's select cocktails, and several non-alcoholic choices.  Appetizers include gourmet cheeses, locally baked breads, charcuterie, bean-to-bar chocolates, and other delicious treats chosen and prepared for you by our crew.  Key West sunsets always deliver, and we have the best front row seats! Check-in at 6:00 pm.
6pm-7:30 (doors 5:30pm)  —The Girly Burly Burlesque Show is back for a special Women's Fest production in the Listening Room at the Key West Theater! The intimate evening of bump and grind beauties that stars Mona Amour and the Key West Burlesque dancers, hosted by drag king sensation, Chief Peach. Special guest performances by Sheba Queen of the Night and Karma Kamdlewick make this a "one night only" performance not to be missed. Tickets available HERE!
9 pm (doors open 8:30 pm)  —The Girly Burly Burlesque Show is back for a special Women's Fest production in the Listening Room at the Key West Theater! The intimate evening of bump and grind beauties that stars Mona Amour and the Key West Burlesque dancers, hosted by drag king sensation, Chief Peach. Special guest performances by Sheba Queen of the Night and Karma Kamdlewick make this a "one night only" performance not to be missed. Tickets available HERE!
YOU HAVE TWO OPPORTUNITIES TO CATCH THE SHOW IF YOU WANT TO DO THE SUNSET SAIL AND BURLESQUE!
8-9 am — Early Bird Clean Up with Plogging the Keys, presented by Key West Womenfest  and Attorney Sherry Ivey Jones, P.A.  Join us for 1 hour to pick up litter. Vests, gloves, buckets, and pickers are provided. One hour makes a difference in keeping Key West Beautiful. Meet us at Duval Street and Petronia Street at the rainbow crosswalks. Bagels, danish, and coffee will be provided by Goldman's Deli afterwards!
9:30 – 11:00 am  — Where is the Woman? Expressive Art Workshop @ Unity of the Keys – 1011 Virginia St. In a supportive container, we will explore ourselves and our communities from physical, emotional, and mental perspectives. Through use of drawing, writing, movement, and creative dialogue we will identify and embody joys and challenges. Absolutely no prior arts or movement training is required. Experiences are given a voice through one's innate creativity. Resources for navigating self and environment with increased awareness and ease are discovered and developed. All bodies, abilities, philosophies, traditions, backgrounds. 18+ welcome. Materials are provided or bring your own journal, drawing pad, drawing supplies. $30 donation suggested/no one turned away! Katharine Doughty is an expressive arts educator/therapist, somatic educator/therapist, and multimodal artist. See katharinedoughty.com or email [email protected] for additional information and registration.
11 am — Clothing optional Sandbar Snorkel trip on the Blu Q We will set sail on the Blu Q Catamaran to one of many remote reefs off the Florida National Marine Sanctuary for snorkeling with tropical fish and various marine life. Afterward, you are taken to a secluded sandbar where you can swim, or just relax in the crystal clear waters of the Keys. Book HERE!
12 pm — All welcome pool party @Bourbon St. Pub
5:30-7:30pm — 𝗠𝗮𝗿𝗷𝗼𝗿𝘆 𝗟𝗲𝗲 & The Misspellings "90𝘀 𝗙𝗲𝗺𝗮𝗹𝗲 𝗔𝗹𝘁-𝗥𝗼𝗰𝗸" blast to the past cover show @Smokin' Tuna Saloon! Alanis, Gwen, Melissa, Sheryl, Fiona, Tracy, Joan…..𝘨𝘢𝘯𝘨𝘴 𝘢𝘭𝘭 𝘩𝘦𝘳𝘦! Don't miss this tribute to the badass female musicians of the 90s and all the closet doors they kicked down. Marjory Lee is a full-time local musician in Key West bringing ALL the lady love you can handle. 𝗙𝗥𝗘𝗘 𝗲𝗻𝘁𝗿𝘆!!!!
7 pm —Play and get Pinked Game Party! (Air Conditioned!) First 30 gals in the door get a free Pink Rubber Duckie
!  Don't have anything pink for the 50 Shades of Pink Party? Want to enhance your outfit? Come and play at the American Legion Post 168 at 803 Emma St, Key West (only three blocks from the Rainbow sidewalks)!   Have fun playing games to win fun pink party attire and prizes!   Play games like Corn Hole Toss, Putt her in Golf, Basketball Hoops, Football Pass, Baseball Pitch, and Wheel of Pink Fortune Spin!  Also play  instant Bingo, and try your chance at the 50/50 Raffle! Be the envy of the 50 Shades of Pink party with fun "pink" accessories for your Party costume! Get some help from a local costume expert and great pictures of your outfits too!  Have a specialty "pink"  cocktail and get ready to party for the rest of the night!  Options available for all women – non-femmes, that means you, too!!  For more information call (703) 626-0600.  Pay to play:  One ticket per play, each ticket is one dollar.  Donations are tax free.  
9 pm-2 am — DJ Blondie returns for the "50 Shades of Pink" Dance Party @ Mangoes . Entry is just $20 per person – includes entry and your first drink. Pink attire encouraged! Tickets are now available HERE.
10 AM-Noon — Join Key Lime Bike Tours for an unforgettable journey through the streets of Old Town Key West, a tour specially designed for Womenfest celebrating influential women! On this tour, you will discover the rich history and culture of Key West, while learning about the remarkable women who have made an impact on this beautiful island.
Our knowledgeable and friendly guide will lead you on a leisurely bicycle ride through the charming streets of Old Town, stopping at significant landmarks and hidden gems along the way. As we ride through the picturesque neighborhoods and historic sites, you'll hear stories of remarkable women who have called Key West home. At the end of your tour, we'll finish with a delicious slice of Award Winning Key Lime Pie! Register HERE.
12-3 pm — "Kat's Are you Wet Pool Party" @ Alexander's Guesthouse – HOST HOTEL with guest DJ. We have a special pool party lined up for you ladies! Kat D. is BACK! She will be joined by guest DJ Erica to offer you the latest hits along with drink specials, complimentary food, games, and prizes!
5:30-7:30 pm—Stop Light Party – "A Party for the Taken, Maybe's, and Singles" @Margaritaville Key West Hosted by Olivia Travel! Kick off your evening before the official Womenfest concert with some mingling, games and great prizes from Olivia Travel! Wrist bands will be provided for each category. Special happy hour prices will be available for food and drinks!
8 pm — Key West Womenfest presents an all welcome concert featuring Sarah Potenza & Tonya Boyd-Cannon at Key West Theater! Sarah Potenza is a critically acclaimed singer and songwriter. She competed on NBC's The Voice, and America's Got Talent. In 2021 her rendition of "Worthy" off her sophomore album "Road to Rome" hit number one on the iTunes Blues Charts. The album received rave reviews from Rolling Stone, Billboard, American Songwriter, and NPR. "Potenza is to the blues what Adele is to pop" – Rolling Stone Magazine . Tonya Boyd-Cannon is a Louisiana-raised singer-songwriter who radiates confidence and passion. Her sound puts vibe front and center ebbing and flowing from heart-wrenching ballads, to jazz, funk, rock, gospel, and everything in between. Tonya's career has seen her release many singles, collaborations, EPs, and full-lengths, all of which have received significant praise from media and critics alike. She was crowned winner of 'Budweiser's: Battle for the Crown' contest and ranked in the Top 20 on NBC's' The Voice.  Special guest, Marjory Lee is a South Carolina bred independent artist-songwriter. Her versatility combines the Southern roots and charm of South Carolina, the musicality of Nashville, and fun-loving "Key Weirdness" of Key West. Her artistic paradox baffles the senses with her striking vocals like the fiery sounds of Gladys Knight and Amy Winehouse and her light-hearted, often witty presence. It's easily recognizable the way she has somehow woven her life experiences into her sound and live performances, naturally connecting her with any crowd.
Doors open at 7:00 PM, show starts at 8:00 PM. Tickets are available HERE! Questions? Please email [email protected]
9 pm — Glow Dance party @ Sidebar at AquaPLex – Official Sponsor. All you need is love and neon lights. Let's GLOW together and enjoy drink specials, and go-go, dancers, all night long! Ladies are encouraged to wear fluorescent clothing and glow-in-the-dark accessories! Glow sticks and body paint will be provided. Special guest DJ to be announced.
12 pm — Celebrate Key West Style! Mangoes Sunday Drag Brunch Show has been voted the Top 10 Drag Brunch Show in the USA. VIP tickets & General Admission tickets include: a fabulous show with incredible Drag Queens, a live DJ, amazing entertainers, and bottomless mimosas. Mangoes offers a special a la carte brunch menu with delicious brunch specials available. Stay for the After Party to get your picture taken with our beautiful drag queens and keep dancing to DJ Jeff's tunes. A portion of each ticket sold will go to our nonprofit partner for this month.
THIS EVENT IS A 21+ EVENT, NO ONE UNDER 21 PERMITTED. NO REFUNDS. DOUBLE CHECK THE DATE BEFORE YOU CLICK PURCHASE – TICKETS ARE NON-REFUNDABLE.
Purchase your tickets HERE.
4 pm — The Original Tea Dance – a Key West Tradition. Join us for the last dance to close out Womenfest 2023 @La Te Da featuring DJ Rude Girl.
Museums: Ernest Hemingway, Key West Butterfly Conservatory, Little White House, Key West Aquarium, Mel Fisher Maritime Museum, Key West Firehouse Museum, Key West Light House, Key West Ship Wreck Museum, Audubon House, Oldest House and Garden Museum, USCGC Ingham Museum, Tennessee Williams Exhibit.
Land Activities: Key West Food Tours, Up the Keys Eco Tour, Fort Zachary State Park, West Martello Tower, A & M Scooter Rental, Key West Tropical Forest and Botanical Garden, Key West Cemetery, Key West Adventures, Papa's Pilar Rum Distillery, Ghost Hunt, Old Town Trolley Tours, Conch Tour Train, Haunted Key West, Ghosts and Mysteries, Ghosts and Gravestones, D'vine Wine Gallery, Perky's Key West Excursions.
Water Activities: Argo Navis, Blu Q, Classic Harbor Lines, Cruisin' Tikis, Danger Charters, Fish N Chicks, Fury, Island Vibe Charters, Island Vibe Charters, Java Cat, Jolly Rover II, Key West Eco Tours, Key West Sailing Center, Key West Snorkeling. Land Boat Charters, Off the Charts, Schooner America, Sunset Sail Key West, Sunset Watersports, SV Argo Navis, Yankee Freedom.
Future Womenfest Dates
2024: 9/4 – 9/8
2025: 9/3 – 9/7
2026: 9/2 – 9/6
2027: 9/1 – 9/5
2028: 9/6 – 9/10